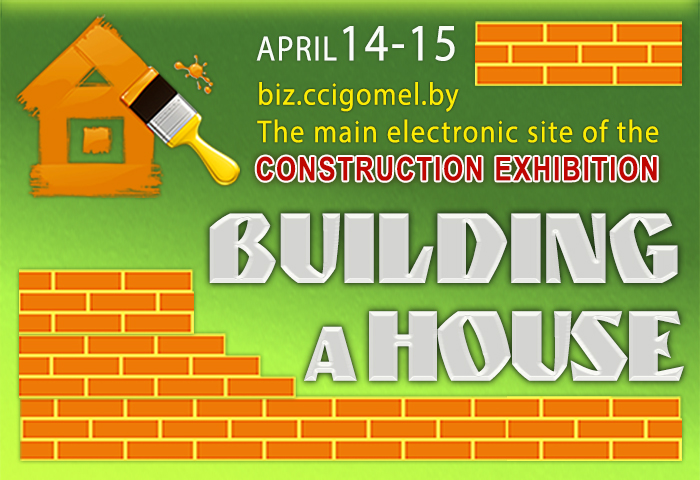 The Gomel branch of the Belarusian Chamber of Commerce and Industry annually organizes the Republican specialized exhibition of building and finishing materials, communications, interior items and wooden housing construction "Building a House".
For 14 years of existence, the exhibition "Building a House" has become a visiting card of Gomel region in the construction industry. Over 500 organizations of the Republic of Belarus took part in the events of the exhibition, as well as foreign delegations from Russia, Ukraine, Kazakhstan, Bulgaria, Lithuania and Italy.
This year the organizers hold the republican construction exhibition from April 14 to 15, 2021 in a new format! The main electronic platform of the construction exhibition "Building a House" – the website biz.ccigomel.by – will traditionally present the potential of the construction industry of the enterprises of the Republic of Belarus, as well as offers of foreign partners. The online dialogue format will be an effective tool for exchanging views and experiences of Belarusian and foreign companies in the sessions on the topics:
The interests of Belarusian and foreign participants of the event are formed on the following topics:
– Building materials and technologies in modern construction;
– The latest building solutions and technologies;
– Innovative technologies and materials in construction;
– Energy efficient construction.
We offer this product 24/7 on the ZOOM platform to help the active business community to find new partners.
During the online exhibition "Building a House" this year, the Gomel branch of the BelCCI organizes more than 10 events for marketing services of enterprises, including:
April 14 – Seminar "CRM-system as a tool for organizing and managing sales", Valery Baranov (Moscow / Minsk)
Manufacturers of building materials, developers, retailers, specialists of municipal and housing services, organizations that provide financial, leasing and insurance services in construction and real estate, interior and landscape designers are invited to work at the dialogue platform.
Participants of "Building a House" have the opportunity to:
– to place commercial offers and presentation materials of the company on the website biz.ccigomel.by;
– to make a presentation of the company's products and services to key customers;
– take part in individual B2B negotiations with domestic and foreign partners.
Use the potential of the dialogue platform "Building a House" for effective promotion of your brand and exchange of experience.
Participation fee: registration fee – USD 50 (with VAT – 20%). BelCCI member enterprises are provided with a 10% discount.
If you have any questions, please call/fax: +375 232 237-111, e-mail: vyd@ccigomel.by.
Contact persons: Mikhail Zhitnikov, Vitaly Shevchenko, Evgeny Cherepko, Veronika Burakova.
Additional information and registration of participants can be found on the websites of the Gomel branch of the BelCCI ccigomel.by and biz.ccigomel.by.