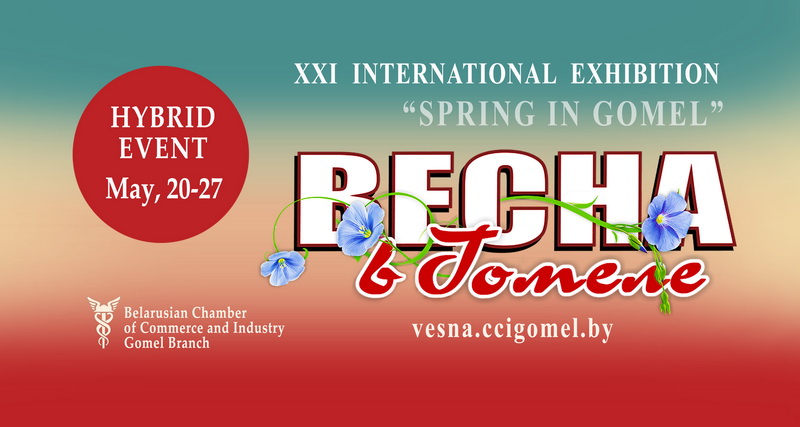 The Gomel branch of the Belarusian Chamber of Commerce and Industry, with the support of the Gomel Oblast Executive Committee, will organize the XXII International Exhibition "Spring in Gomel" on May 20-27, 2021 in the format of an electronic platform on the site https://vesna.ccigomel.by.
Over the 21 years of its existence, the International Exhibition "Spring in Gomel" has become the hallmark of the Gomel region, the most significant international event in the region, in which take part the leaders of the Gomel region and the city of Gomel, members of the government, representatives of diplomatic missions, chambers of commerce and industry and business.
Traditionally, "Spring in Gomel" is a demonstration of the economic potential of the Gomel region, a platform for business negotiations, an exchange of views with foreign partners on cooperation with our region.
In 2021, the Organizers hold this event, emphasizing the deepening of interregional contacts. To this end, the program "Business Spring" will include online meetings of the R2R format (Region 2 Region), with the participation of government officials, chambers of commerce and industry, business associations, entrepreneurs, as well as presentations of regions and companies interested in cooperation with the Gomel region, webinars, workshops and consultations.
The proposals made by the participants will certainly come to attention of the employee of the Gomel branch of BelCCI, the individual approach will allow to multiply your interests and priority areas of interaction to a large audience of our partners, and the posted information materials will expand the base of contacts of the participants of "Spring in Gomel."
In addition, in support and promote the development of the entrepreneurial environment in the program of events "Spring in Gomel," the round table "Artisans: business or entrepreneurship. Experience of interaction with chambers of commerce and industry. "
We invite you to take part in the business program of the electronic platform "Spring in Gomel," as well as place information cards of regions and companies (presentations, commercials, commercial offers and other materials) on the site vesna.ccigomel.by.
You can get detailed information and fill out an electronic application by May 12, 2021.