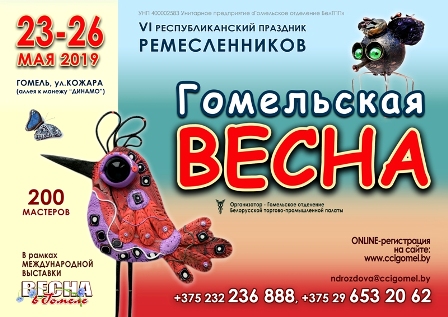 On May 23-26, 2019, the Gomel Branch of the Belarusian Chamber of Commerce and Industry holds the 6th Republican Craftsmen's Festival "Gomel Spring". The event is organized within the framework of the main exposition of the region – the XXth International exhibition "Spring in Gomel". Location – Gomel,  Kozhara str. (alley from Sovetskaya street to the athletic arena "Dynamo").
Festival "Gomel Spring" is a great opportunity to present and sell art works and to share experiences. In the program of the festival – conducting master classes for all comers, free concerts of city bands in the open air, performances of children's groups and other events.
In addition, the Festival of Moldovan Culture "Days of Moldova in the Gomel region" will be held. The program of the Festival includes degustation of Moldovan wines, performances by creative teams from Moldova, etc. The event will be held in the open area near the main entrance to the international exhibition.
Artisans and craftsmen from Belarus and abroad are invited to participate in the "Gomel Spring". For visitors there are options for budget accommodation (call the numbers listed below).
It is required to provide photos of the own products to the online application and approximate appearance of the trading place.
Registration fee – 30 BYR for 4 days of the holiday.
Applications for participation are accepted until May 12 inclusive!
The event will be widely covered in the media and on the Internet.
Organizer – Gomel Branch of the Belarusian Chamber of Commerce and Industry.
Tel. +375 232 236 888, +375 29 653 20 62.
Contact person: Natalia Drozdova