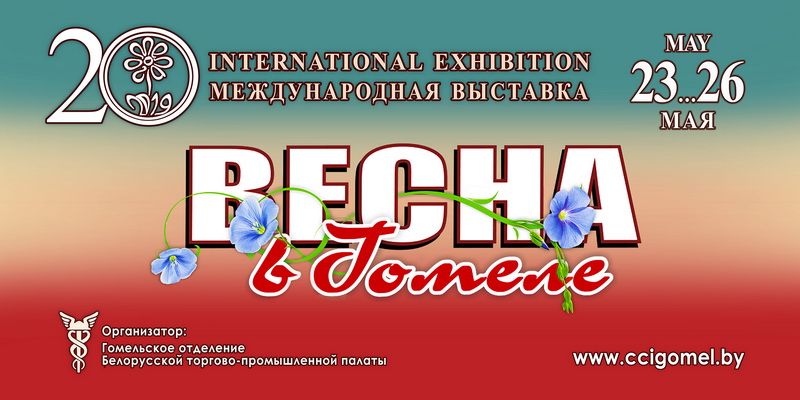 Official partners:
Business program partners:
Gomel branch of the Belarusian Chamber of Commerce and Industry, with the support of the Gomel Regional Executive Committee and the Gomel City Executive Committee, organizes the 20th anniversary exhibition "Spring in Gomel" on May 23-26, 2019.
Exhibition takes place in the days of the Gomel Economic Forum. These events are the most significant international events in the region. The events are traditionally attended by the chairman of the Gomel Regional Executive Committee, members of the government, representatives of government and business, heads of diplomatic missions and Chambers of Commerce.
International exhibition "Spring in Gomel" is a demonstration of the economic potential of the largest region of the Republic of Belarus, the largest regional exhibition of the country. In 2018, on an area of more than 5000 sq. m. The latest samples of products of 300 enterprises and organizations of the Gomel region, as well as collective stands of foreign participants were presented.
"Spring in Gomel" in 2018 was visited by over 30,000 guests from 32 countries of the world.
Catalogue of participants 2018
Catalogue of participants 2017
The concept of the anniversary XX International exhibition "Spring in Gomel": "Gomel region – your partner" is presented in the format:
internal exposition (formed according to the industry principle) – 1200 sq. m.
exhibition of large-sized equipment and industrial designs – 1500 sq. m.
shopping arcade (catering and retail facilities) – 600 sq.m.
Holiday of the Moldavian culture "Days of Moldova in the Gomel region" – 120 sq.m.
Feast of craftsmen and artisans "Gomel Spring" – 1500 sq.m.
Concerts of Gomel bands in the open air – May 24-25, 2019.
Gastro-fest "Tasty Spring" in the restaurants of Gomel – May 20-26, 2019.
Layout of exhibition expositions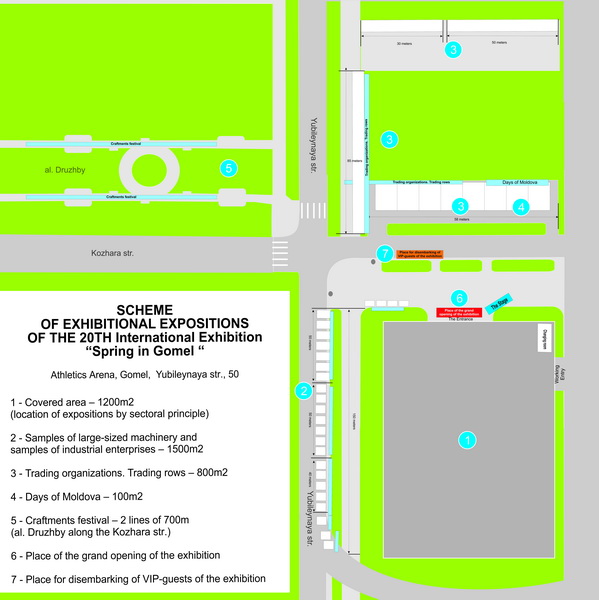 Construction is carried out using modern approaches in the formation of exhibition expositions. We are ready to offer design services of advertising materials and exhibition stands.
More than 50 events of the business program of the exhibition allows visitors and participants to use actively:
area for B2B negotiations;
presentation area with LED screen;
conference room area of 50 sq.m. with multimedia equipment.
Participating in the exhibition "Spring in Gomel-2019", you get a unique opportunity to present your products and services to the international business community, find domestic and foreign business partners, establish stable commercial ties, and hold a dialogue with representatives of republican and local executive authorities.
For participation or visiting the exhibition, please call / fax: +375 232 23 71 11, 23-72-22, e-mail: vyd@ccigomel.by.
          Contact persons: Zhitnikov Mikhail, Naseko Marina, Cherepko Evgeny.
Online registration in the catalog
Download application for participation
We will be glad to see you as participants in the significant event in the economic life of the Gomel region.
We invite all creative people to take part in the traditional VI Republican festival of masters and artisans "Gomel Spring".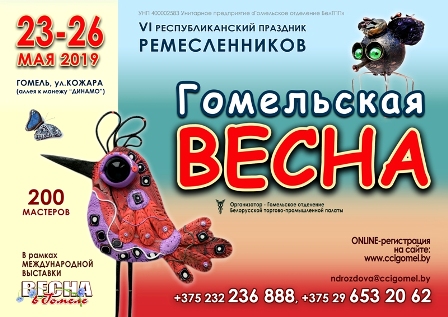 Media about the exhibition: